Fishing in Cooktown
Cooktown is unique for its close proximity to a myriad of angling environments. You can fish the outer reef for its legendary black marlin; the inner reef for coral trout, red emperor, mackerel and tuna. On the beaches, headlands and coastal flats you'll find trevally, queenies, permit and the elusive bonefish; and in the estuaries chase barramundi, mangrove jacks, fingermark and crabs. And way up in the sweetwater jungle, perch and sooty grunter abound. This is a fishing paradise!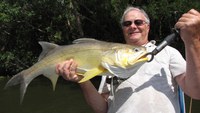 Annan River
The Annan is situated 5 minutes south of Cooktown with a good boat ramp on the downside of the bridge.  Take care when navigating on a low tide as it is very shallow and rocky in places.  The Annan is a shorter estuarine system than the Endeavour and subtly different.  Barra fishing can be had up and down the river and out into the mouth at Walker Bay where some big saltwater barra can be had both on lures, fly and liveys.  Big jacks and fingermark are a common catch plus all your usual queenfish and trevally's.  Good mud crabbing can be had especially after the first rains.  Upstream of the bridge extreme care should be taken, especially on low tide.  Some big deep holes and snags to fish; again liveys and lures can work well.  The mouth is sandy with the Esk river coming from the south and Saltwater creek from the north.    Generally runs a bit cleaner and warmer than the Endeavour.  Further information can be obtained from the Yuku Baja Muliku Ranger office
Archer Point
Following the road south out of Cooktown for 12 kms will bring you to the Archer Point turn off.  Follow the dirt road for a further 6 kms and you reach the beach where you can find some limited camping.  Beach launches are possible with a 4WD drive.  To get a good feel of the area go up to the lighthouse but hang on if it's windy.  During the winter months there are frequent sightings of breaching humpback whales. With town so close for amenities this is an ideal spot to have that camping, fishing, and family experience. Visually, it's fantastic, fringing reef, sand flats, small tributaries, the wet tropics. 
More information can be sought from the traditional owners Yuku Baja Muliku (T: 07 4069 6910)
Tropical Islands
Tropical Islands scatter this coastline and many are accessible by small boats when the weather allows.  Some like Lizard Island are big enough to house luxury resorts, airstrips and camp grounds whilst others are relatively small.  Camping is allowed on quite a few but booking in advance is necessary with QPWS.  Strict regulations are in place to protect these stunning locations and for further info contact GBRMPA/QPWS for zoning maps and camping restrictions.
Heli-fishing
Going in by chopper to that secret billabong, inaccessible headland or hard to access river mouth has to be one of the ultimate ways to travel and fish.  Getting there is usually very quick and spectacular, flying over dramatic escarpments, stunning rainforest and the Great Barrier Reef.  Flooded bridges and corrugated roads are no longer a problem and multiple fishing locations are possible in one day.  This surely will ensure a very memorable experience of fishing far north Queensland.
Half day charters through to extended holidays are available with several local companies offering packages for that once in a lifetime trip.
Reef Fishing
Unlike many spots along the eastern seaboard of the Great Barrier Reef Cooktown is the closest town to this iconic world heritage site ensuring your fishing time is maximised and not spent travelling.  Inshore reefs lie just a couple of miles out and even though they are close shouldn't be overlooked.  However, travelling 10-15 miles out will certainly open up a lot more possibilities.
Fishing the reef is fairly straightforward usually it's a matter of working out which way the current is running onto the face of the reef, (pressure point) where the majority of predators and baitfish will be and dropping the anchor so that you hang close to these marks.  Baits such as pilchards and squid work very well but those anglers wishing to experiment with soft plastics and jigs can also be rewarded with a multitude of species.
If however you want to chase red emperor and nannigai then a different approach is needed.  These fish tend to school up in deeper water usually over rubble patches, raised areas or around old wrecks so whilst your trolling around for Spanish mackerel keep your eyes on the sounder and when you see some life mark it on the GPS and return later. If you are new to the area then nautical charts are great things to study and will give you enough clues to catching fish if you study them carefully.  Zoning maps can be obtained from GBRMPA.
Game Fishing
Whether you choose light or heavy tackle Cooktown with its close proximity to the reef and the continental shelf offers the angler a world class destination.  The variety of species on offer is outstanding especially when you consider how far you don't have to travel to catch them.
From September to December the marlin fleet from across the globe, converge on far north Queensland.  Many choose Cooktown as their base, chasing the elusive 1000lb (Grander) black marlin and to fish the Annual Lizard Island Classic.  It is during these months that big female marlin with their attentive males, are brought down the currents on the outer reefs feeding on the ample bait supplies.  This provides the angler an opportunity to target these leviathans from the deep.
Key Species
River and Estuarine: barramundi, mangrove jack, fingermark, tarpon, queenfish, trevally, salmon, cod, bream, grunter, flathead, jungle perch, sooty grunter.
Barramundi closed season; 1st November, midday – 1st February, midday.
Inshore/offshore: marlin, sailfish, wahoo, mackerel, bluefin tuna, yellowfin tuna, coral trout, cod, red emperor, spangled emperor, sweetlip, fingermark, nannigai, queenfish, trevally, cobia,
Fishing near Hope Vale - McIvor River and Cape Bedford
Fishing near Laura - Lakefield, Bathurst Bay, Bathurst Heads and Cape Melville
Fishing in the Rainforest Coast - Bloomfield River
Download the Fishing and Birdwatching Brochure 
Fish with the local experts on a fishing charter: