Getting Here
Travelling to Cooktown and within Cape York Peninsula.
Cairns to Cooktown
By Road
Inland Route, a 4 hour drive to Cooktown north of Cairns. Distance approximately 331 km.
Take Highway 1, the Kennedy Highway from Cairns through scenic Kuranda to Mareeba. Officially opened in March 2006, the fully sealed inland route then follows the Mulligan Highway north from Mareeba.
Several lookouts along the way offer expansive vistas of lush valleys and sparsely vegetated hillsides.
Roadhouses along the way are located at Mt Carbine, Palmer River and Lakeland Downs. Keep an eye out for wildilfe and livestock along the roadsides as some sections are unfenced.
Or take the scenic Captain Cook coastal route to Port Douglas then Highway 44 via Julatten to join the Mulligan Highway at Mount Molloy to continue to Cooktown - a similar time as the route via Mareeba.
Coastal Route, Allow 5- 6 hours from Cairns to enjoy the scenery. Distance approx 234 km. (4wd only from Cape Tribulation to Wujal Wujal)
From Cairns follow the Captain Cook Highway past Port Douglas, Mossman and on to Cape Tribulation - a stunning coastal drive that is fully sealed to Cape Tribulation. You will be required to cross the river via the Daintree Ferry which operates 06.00 a.m-12.00 p.m. 7 days/week.
From Cape Tribulation, you travel along the famous Bloomfield Track. The road is unsealed from Cape Tribulation to Wujal Wujal (approx. 40km) and is recommended for 4WD only.   This is a very scenic drive through the Daintree Coast, passing through the Aboriginal community of Wujal Wujal and villages of Ayton, Rossville and rural Helenvale to Cooktown.
Latest Cook Shire Road Conditions
Self driving from the South?
The Great Tropical Drive has a network of fabulous driving routes throughout North Queensland.
The Matilda Highway is a popular route for grey nomads coming from the south and west
The Overlanders Way is another option when driving from the West or up from Townsville
Self driving from the West?
The Savannah Way links Broome to North Queensland with adventurous self drive routes.
The RACQ website has detailed road condition reports, but as conditions change quickly local advice is always the most up-to-date.
Hire Vehicles
In Cooktown car hire is available from the Sovereign Hotel and Milkwood Lodge who both offer a choice of 4wds and cars.
4WD vehicles, standard cars and campers are available from Cairns and major centres. If you are planning to go on unsealed roads, make sure you are covered by the appropriate insurance.
By Air
Hinterland Aviation flies to Cooktown from Cairns daily departing from Hangar 7 on Tom McDonald Drive in the General Aviation precinct. Charter flights are also available. The 45 minute flight provides spectacular views over the rainforest and reef.
A shuttle service is available between the Cooktown airport and Cooktown. Bookings can be made by contacting the Sovereign Resort.
Full details for all Cook Shire airports and airstrips at Cooktown, Coen, Laura and Lakeland are available by contacting Cook Shire Council on (07) 4082 0500.
Air Charter
Daintree Air have been established in North Queensland for over 25 years.  Available to fly 7 days and nights, 365 days per year, with up to 9 passengers per plane. They regularly conduct charter operations to all ports on Cape York Peninsula and are available for charter Australia wide.  Ph 07 4034 9300 or email 
 Coastal Rotors offer a charter helicopter service in Cape York, based at Punsand Bay, Phone 0498 580 042.
By Bus
Trans North operate a bus service between Cairns and Cooktown return on Sunday, Wednesday and Friday (via the Mulligan Highway). There is also the option to travel via the coastal road. Bookings can be made by phoning (07) 4095 8644.
Cairns Bus Charters operate a daily bus service between Cairns and Cooktown return. Bookings can be made by phoning (07) 4059 1423.
By Sea
Many people on private vessels sail in to Cooktown enjoying a few days, a couple of weeks or several months!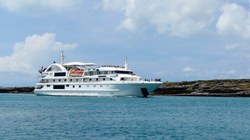 Several Cruise Ships include Cooktown on their itineraries including Coral Expeditions from Cairns, P&O Cruises, Azamara Cruises, Oceania Cruises, Regent Seven Seas Cruises, Silver Sea Cruises and Crystal Cruises
Organised Tours
A choice of Organised Tours, Scenic Flights and Tag-Along Tours operate to and around Cooktown and the Cape.
From Cairns and Port Douglas
From the Western Cape
From the Top
Beyond Cooktown
Road
4WD is recommended for most Cape York Peninsula roads beyond Laura and Cooktown.
Skytrans flies from Cairns to Aurukun, Kowanyama, Pormpuraaw, Lockart River, Coen and Bamaga
Qantas Link - flies from Cairns to Weipa and Horn Island
Daintree Air - charter flights from Cooktown and Cairns 
Sea

Seaswift Cargo offers a passenger service to or from Cairns to Seisia, Cape York Peninsula
Cultural Respect
When travelling in Cape York please respect that you are travelling through land owned and occupied by Indigenous people and take care to consider their guidelines for entering their country.
Quarantine
Cape York and the Torres Strait are Australia's gateway to New Guinea and Indonesia and are major potential gateway for pests and diseases entering Australia. Please remember to be aware of this when it comes to bringing home items with you from the Cape. There is a washdown bay in Lakeland Downs so please make use of this service when you are returning from you trip up the Cape.
Alcohol Rules
There are strict rules for the carriage of alcohol in Cape York communities. The map below has been prepared as a summary by Tourism Cape York. See the Queensland Government website for more detailed maps, rules and penalties. Don't risk it!
OVERALL: In all communities the fines for possessing alcohol above the limits  exceed $40,000 and vehicles may be confiscated. There are fines for drinking in a public place and possessing home brew kits and homemade alcohol.
LIMITS: The carriage limit applies equally to people on foot and each vehicle, boat and plane. Limits apply to whole shaded areas, not just the settlements.  Wine: Unfortified only, port, muscat and sherry are prohibited. Mid Beer: Less than 4% alc/vol. Pre- Mix: Standard cans of pre-mixed spirits up to 5.5% alc/vol.
Bona Fide Travellers: A reverse onus of proof applies and travellers on identified roads in Lockhart River and Wujal Wujal will have to provide evidence their destination is not the restricted area. Alcohol must be secured in vehicle and not visible and must not be consumed within  the restricted area .
DISCLAIMER: This website and map provides basic and summarised information only, it is not intended as legal advice.