Daintree Air Services
Walk on the top of Australia. The Cape York Day Tour is the longest scenic flight in the world.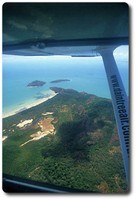 Daintree Air Services
During the flight you see coral reefs and Islands , World Heritage Rainforests , The Northern Most Tip of the Australia Continent as well as enjoying several hours touring the top end by 4 wd coach.
Dave , when people click on the read more there is a 1800 ph number posted. Can we change that number from 1800 246 206 to + 61 07 40 349 300. The 1800 number can not be used from out side Australia. Thanks Dave.
Tours from Cooktown
Lizard Island Day Tours , Scenic Flights and Cape York Day Tours can be organised from Cooktown as well as private air charters and air tours.
Bookings – 1800 246 206