Weipa
Weipa has a lot to offer including a selection of stunning beaches, wilderness adventures, fabulous fishing and rich cultural heritage. With no shortage of things to do in the area, Weipa offers the perfect base to explore the outdoors and everything our vibrant town has to offer.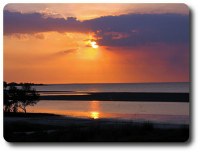 Sunset at Weipa
Weipa – a bit of history
The township of Weipa is located just over 800km north of Cairns and is situated on the traditional lands of the Alngith people. Following the discovery of economic bauxite deposits near Weipa in 1955, a small exploration camp (Top Camp) was established at Munding in mid-1956. Under the terms of the Commonwealth Aluminium Corporation Pty. Limited Agreement Act of 1957 (Qld.), an area for a township was excised from the Cook Shire local authority area and the mining company, Commonwealth Aluminium Corporation (Comalco) became the manager of the new town, based on land near Kumrumja (Rocky Point) on the south side of the Mission River.
As the mining operations expanded, so too did the town. A second suburb developed at Trunding on mined land in the mid-1970s, before further expansion southwards to the suburb of Nanum during the 1990s. The most recent suburban construction is the Golf Links Estate which is adjacent to the Carpentaria Golf Club course.
Since the 1980s, Weipa has become a regional centre for federal and state government organisations, with facilities that include:
A major hospital
Western Cape College (schooling to Year 12, and a boarding facility for students from remote centres)
Light industrial businesses servicing the mine and local communities 
Regional surveillance force Army base.
While bauxite mining remains the main income source of the region, beef cattle grazing and tourism are also significant. Many people travel into Weipa during the annual trek to the top of Cape York Peninsula during the dry season.
What to do
There is no shortage of things to do during your visit to Weipa. Take a sunset walk along one of our many beaches, bird watch at Lake Patricia, immerse yourself in our rich cultural heritage at the Cultural Centre or the Cape York Collection located at the Hibberd Library, wet a line at one of the Cape's best fishing spots on a boat charter, or simply sit back and relax at one of the many recreation clubs on offer.
Annual Events
Weipa is home is several annual community events which attract people from all over Australia. These include the Weipa Fishing Classic, Weipa Bull Ride Rodeo & Cabaret, Weipa Pig Hunt and Weipa Running Festival.
Being croc smart
Crocodiles inhabit the waterways in and around Weipa. It is important to remain vigilant when around bodies of water. Any sightings of crocodiles, within the township of Weipa, should be reported to the Department of Environment and Heritage Protection.  See the Crocwise brochure for more information visit this website.