Cooktown Cemetery
The Cooktown cemetery is the final resting place for people of many nationalities, religions and cultures that lived in this remote pioneering town. The stories that unfold within its boundaries bear witness to the tragedies, triumphs and mysteries experienced by the people in the times of the gold rush era, and early settlement of the township.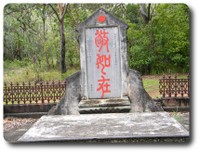 The developments of Cooktown are recorded here in events and individuals contribution to the town and region.
The many headstones show the diversity of architectural styles using a wide range of materials. The styles reflect the religious groups, with the most elaborate headstones being found in the Roman Catholic and Church of England sections.
Virtually no Chinese or Aboriginal graves are marked, despite many burials of both races being recorded.
The layout of the cemetery is an example of late nineteenth century planning with denominational divisions being apparent with Roman Catholic, Protestant, Chinese and Jewish sections. The oldest graves date back to 1874.
The oldest identifiable grave is that of Rev Francis Tripp who died on the 20 May 1874 at the age of 46 years.
The Roman Catholic section is the largest section and contains the graves of the first two bishops and founding Mother Superior of St Mary's Convent in Cooktown.
Historic gravesites include Elizabeth Jardine wife of John Jardine who established "Port Somerset" near the tip of Cape York in 1864.
Mary Watson and her infant son, Ferrier, of Lizard Island, are interred within the cemetery. See the Walk around Cooktown pages for more information on Mary Watson.
Mystery & intrigue surround the origins of the "Normanby Woman" buried in 1886. During the Palmer Gold Rush, travellers had sighted a fairskinned woman living with Aborigines. Enticed from the camp and captured by the police, she was washed, dressed, fed and put on a horse bound for a new home in Cooktown. Aborigines attacked the party and the woman was injured falling from her horse. Interest ran high and curious people were charged one shilling to view the "Normanby Woman". She died in Cooktown Hospital refusing all food. Whether she was European or fair skinned Aboriginal, or died of a broken heart has been the subject of speculation with no one sure where the truth ends and folklore begins.
The small Jewish section connects the Roman Catholic section to the Chinese Shrine.
Rebels Corner is the area of choice for those colourful characters who considered themselves non conforming.

The Cooktown and District Historical Society have a comprehensive data base of deaths and burials dating from 1874 to 2000. If you would like further information on family history, the Research and Archive Centre is located at 121 Charlotte Street, Cooktown or phone 07 4069 6640.