The Historic Lion's Den Hotel
The infamous Lion's Den Hotel was established in 1875 and is still going strong today.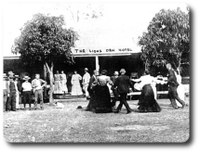 Lion's Den Hotel
In 1875 a young Welshman from Rossville, Jack Ross and his wife Annie decided to open a new hotel where the Little Annan River and the Mungumby Creek joined, the area later became known as Helenvale. The new hotel was named the Lions Den Hotel, after the Lions Den tin mine on the nearby tableland. Sadly Jack Ross' time at the Lions Den was short, for at the end of 1889 he died at the age of 23, leaving his young widow Annie and his infant daughter, Louise behind.
Six months later Annie gave birth to the couple's second child. Annie Ross ran the Lion's Den for several years on her own, while raising her two children before marrying George Watkin, and the hotel remained in the hands of the Watkin family for several generations. The hotel was in the same family from its establishment in 1875 until 1964.
Origin of the name:
How it came about its name was when a stowaway called Daniel, looking for work, left his adopted ship at Cooktown and was put to work in a mine. (The tunnel is in the mountain opposite the present hotel building).
The mine had no name when Daniel came to work there, and as the work was underground, it was a strange experience for Daniel.
Upon seeing Daniel standing in the opening of the tunnel, the owner of the mine characterized him as Daniel in the Lions Den, and the name took to the mine. The black tin slug, still in the hotel, came from the original Lions Den mine.
Why the signatures?
The signatures that adorn the wall of the Lions Den stem from an early tradition begun in the early mining days. The hotel was frequented for many years by miners working at the various tin mines around the area. In the early days as education and security of personal belongings was limited, some miners began leaving their pay packets at the public house (Lions Den) and writing how much money they had spent, or still had, up on the wall. The amount was written and recorded for the next time they returned to the pub and in turn each miner knew how much money they had to spend while on the premises.
Today the Lion's Den Hotel is the perfect place to drop in for a cold drink and a meal. Stay in safari tents or in the spacious campground and enjoy swimming in the pristine waters of the little Annan River.