Public Art in Cooktown
A stroll around the centre of Cooktown leads you to several public art works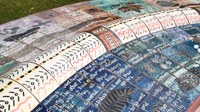 Milbi Wall
The Milbi Wall
Nearly 500 hand-painted and carved tiles adorn the 12 metre-long curved Milbi Wall interpretive sculpture, placed at the very location where in 1770, Captain James Cook and his crew first set foot on land.
'Milbi' is the Guugu Yimithirr (local Aboriginal language) for story.  Developed by local Aboriginal artists and storytellers, with assistance from Townsville potter Shelley Burt, the Milbi Wall's colourful artistic ceramic tiles express Aboriginal history and mythology.
Constructed in three sections, this reconciliation wall explains in both image and text the Creation Stories, and how the Endeavour River and Cooktown were made.  It further commemorates the first historic meeting between Aboriginal people and Captain Cook, tracing the history of Aboriginal people from the early settlement times and the gold-rush days, until the Second World War.  Also depicted is the 1967 referendum when the Australian people recognised the right of aboriginal people to equality with all other Australians.
The 'Yirrmbal' runs along the top of the wall, linking the tree sections.  It reminds us that reconciliation is about having a united Australia, where Aboriginal heritage is respected, and we have justice and equity for all.
Don't rush by this sculptural book, take time to enjoy the beautiful art and unravel its stories!
The Musical Ship
Climb aboard Cooktown's Musical ship, a unique musical playground created for young and old…no need to worry about getting seasick on this vessel!  Fitted with marimbas, thongaphones, tok-toks, chimes and doof (bass drum), a visit to this interactive sculpture is a must...you can serenade your sweetheart or create your own personalised percussive ensemble.  Why not film and download your performance onto Youtube?
Set against the beautiful foreshore of the Endeavour River, this unique 8.5 metre sculptural installation is made from recycled poly-pipe, stainless steel, aluminium, and our local Cooktown Ironwood.   The softfall surrounding the ship is made from re-cycled car tyres, with sea creature inserts designed and painted by local Aboriginal artists – Helen Gordon, Conrad Michael and Joseph McIvor.
'Launched' in 2007 as part of the Queensland Music Festival, the Musical Ship was designed and built by Steve Langton with his team at Hubbub Music.  Commissioned by Queensland Music Festival's Artistic Director, Paul Grabowsky, the project was supported by Cook Shire Council.
In 2009 the Musical Ship acted as a stage for a stunning avant-garde performance - Laid in Earth presented by the Queensland Music Festival and Cook Shire Council.  This multi-media performance with sound, light and video projection featured a newly commissioned work from celebrated composer Damian Barbeler, with performers including multi award winning vocalist Sarah Blasko, Daniel Rojas, chamber ensemble, Kurrawong and a choir of community singers from Hope Vale, Rossville and Cooktown.  The event also featured Cairns singer, Emma-Louise, local Deadly Award winning band, Black Image and school children from Cooktown and regional schools.
If you climb aboard the Musical Ship, who knows where your voyage will lead?
River of Life Walkway
Take a meander along Cooktown's scenic foreshore to discover the beautiful artworks that combine to form the River of Life Walkway.  At 500mtrs long, the winding pathway features hand-painted and carved ceramic tiles with a mixture of both minimal and very detailed designs.
Guided by Townsville potter Shelley Burt, seven local artists combined their talents to produce artworks that depict the diversity of Cooktown's present-day identity, contrasted against that of its cultural history.  With so many stories presented, this artwork truly represents the communities respect for cultural diversity.
A friendly python
Keep an eye out for a very friendly Amethystine Python who watches over the grounds of the Botanic Gardens at Natures Powerhouse.  This 6.5 metre-long sculpture is expertly carved out of Cooktown Ironwood, a species which is one of the hardest and densest timbers in the world.  For this reason it is avoided by most wood-carvers, and therefore highly regarded.
Made by local artists Mark Berg and Rodney lousteau, with assistance from Ursula Lichti and Flint Harai, the sculpture was specially commissioned by Natures Powerhouse to act as a link with the Charlie Tanner Gallery which features a display of many venomous and non venomous snake specimens.  These were gifted by the late Charles Tanner to promote the understanding, appreciation and conservation of wildlife, especially the reptiles that were his life's passion.
It's easy to fall in love with this very sleek, smooth sculpture…a great photo opportunity.