The Old Telegraph Track
The Old Telegraph Track follows the original telegraph line through the Peninsula, and for much of the Cape's history was the only available route.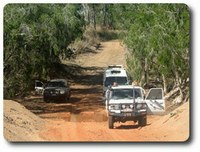 The Old Telegraph Track
The Overland Telegraph Line was once the only method of communication for those living on the Cape York Peninsula. The Telegraph operated from 1885 until 1962 with just two wires sending morse code via repeater stations, old homesteads, along the way. The line was upgraded to radio in WW2 and was still used for telephone cable until 1987 when it was finally dismantled.
Many of the original poles are still in place and the Old Telegraph Track (OTT) north follows the original route. 
The OTT is a rough road and accessible only during the dry season. It passes through some beautiful country with several creek and river crossings, and there are several patches of deep sand. Bush camps are set up at most creek crossings.
There are two bypass roads that allow travellers to get from the Peninsula Development Road to The Tip without having to navigate all of the creek crossings and rough roads. 
Most visitors take the OTT track north and return via the Bypass roads, but the OTT is an integral part of this memorable journey providing adventure, tradition and stunning scenery.