Community Markets
Local markets in Cooktown, Rossville and Bloomfield give you the chance to chat with the locals and experience the fresh produce of the region.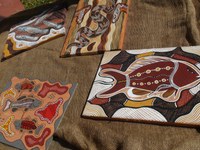 Local artwork
Cooktown Markets are held every Saturday morning in the shady parkland along the picturesque Endeavour River. Enjoy the relaxed market atmosphere in a stunning setting where everyone mingles, choosing from some of the Cape York Peninsula's finest fresh produce. Sweet sensations include locally grown passionfruits, while bananas, mangoes and more are all eagerly sought after. Organic growers offer a range of fresh farm and garden produce including jams, honey, dried fruit and chutneys.
Locally made handicrafts, natural soaps, creams, jewellery, trinkets and second hand goods, fill colourful stalls with laid back locals ready for a chat as they display their wares. 
The small rainforest community of Rossville holds their community market every second Sunday from 10am - 1pm at the Hatfield Market Place, a short scenic drive past the historic Lions Den Hotel. The markets showcase interesting local products and tasty fruit and vegetables.  The next markets will be held on Sunday 22 January 2023, then every two weeks after that. 
The Bloomfield markets are held on the last Saturday of each month and are a focal point for this small rainforest community.