Vera Scarth-Johnson Gallery
The Vera Scarth-Johnson Art Gallery at Nature's Powerhouse features the botanic works of artist Vera Scarth-Johnson (1912-1999).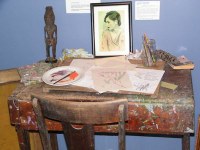 Vera Scarth-Johnson Gallery
A well known artist, collector and avid conservationist, Vera was concerned that some of the plants of her beloved Endeavour River were becoming harder to find during the many excursions she made deep into the river basin.  Entranced by the beauty of the Endeavour River valley, she became passionate about the need to graphically record the flowering plants found in this unique region before they became endangered.
In 1986, Vera donated her collection of completed works to the people of Cooktown, with her keenest wish being that the collection would encourage people to appreciate and protect our natural environment.
The Vera Scarth-Johnson Gallery also houses a collection of Banks Florilegium botanical engravings showing plants collected here at the Endeavour River by Joseph Banks during Captain James Cook's first Pacific Voyage.  These engravings are based on original sketches produced on board the Endeavour, by Botanical artist Sydney Parkinson. 
The gallery also displays the works of prominent local artists in changing exhibitions throughout the year.