Home Rule Falls
The moderate, 2.6 kilometre return walk through rainforest to Home Rule Falls takes 35 to 45 minutes each way.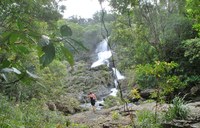 Home Rule Falls courtesy Mark Roy
From the lodge, walk along the eastern edge of the dam, turn left and follow the dam wall to the hydro-electric generator shed, where a sign on the ground at the edge of the forest points the way to the falls. The distinct track follows a water pipeline to the falls. It is a gradual climb to an impressive three-tiered waterfall that plunges into a deep pool between gorge walls of vertical slate.
Specific Features: Beautiful tropical rainforest with refreshing swimming opportunities
Home Rule Rainforest Lodge has accommodation, meals and camping facilities with a fully equipped self-catering kitchen and coin laundry, situated in shady parkland beside Wallaby Creek.
Difficulty Level: Moderate
Distance: 2.6 Kilometre
Duration: 1½ hours (return)
Access: Self Guided – (Must register at Home Rule Rainforest Lodge)
Facilities: No facilities (Accommodation and camping facilities at walk start)
Contact: Home Rule Rainforest Lodge - Phone 07 4060 3925
Map of walking trail to Home Rule Falls courtesy Footloose publications