Keatings Lagoon (Mulbabidgee) Walk
The Mulbabidgee (Keatings Lagoon) walk has been developed in conjunction with the local Gungarde Aboriginal Corporation who worked on the 1.5 kilometre boardwalk and walking track on the edge of this important bird sanctuary.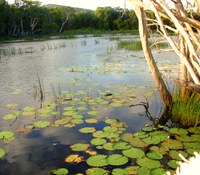 Keatings Lagoon
Keatings Lagoon Conservation Park is 8 kilometres south of Cooktown. This natural freshwater lagoon traps and holds wet season run-off and creates an ideal habitat for wetland vegetation, which provide abundant food for animals and migratory water birds. The lagoon is at the upper limit of tidal Meldrum Creek. This seasonal wetland is often completely dry during the winter and early summer months.
For thousands of years the Gungarde Aboriginal people have utilised the lagoon's natural resources for food, medicine and utilitarian purposes. Their traditional name for the wetland area is Mulbabidgee.
Turn off the Developmental Road onto Hutchinson Street where signs indicate the entrance to the Keatings Lagoon carpark. Cross the wooden boardwalk to access the walk. This 390 metre path leads to a bird-hide and a picnic area. It follows the edge of the lagoon, passing through melaleuca forest  (some of the trees beside the path are numbered and named).
The bird-hide offers unobstructed views of the lagoon and a bird identification chart is provided. The picnic area at the end of the path is about 300 metres north of the bird hide. Due to the large body of still water the mosquitoes can be quite bad, so take insect repellent.
Difficulty Level: Easy
Distance: 390 metre
Duration: 20 Minutes (return)
Access: Self Guided
Facilities: Bird hide, interpretive information, picnic area and car park.
Trail Management Contact:Cooktown office of the National Parks and Wildlife Service, tel: (07) 4069 5777
Map of walking trail at Keating's Lagoon courtesy Footloose publications