Coastal Route to Cooktown
The Coast Road, from Cooktown to Cairns, pushes through the pristine rainforest of the Daintree & Wet Tropics region. Picturesque waterways, magnificent beaches & rugged mountains make for a magical drive.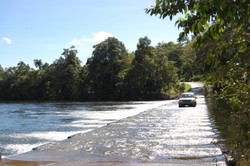 At Wujal Wujal before crossing river continue 1.3 kms to the Bloomfield Falls car park. Then take the short 500m walk to the Falls.
The famous Bloomfield Track, built to connect Bloomfield to Cape Tribulation (32 kms), was the subject of a blockade and major confrontation by conservationists in the 1980's. Though suitable for 4WD vehicles only, it has been of major benefit to tourism allowing easier access to a wild and beautiful region.
Take care in crossing the Cowie and Donovan Ranges as there are steep descents. After passing Woobadda Creek, which has a swimming hole upstream and beautiful, remote South Cowie Beach, you reach Emmagen Creek.
This is a popular and beautiful picnic spot, and great photo stop. Take the track upstream on the south side of the creek for swimming holes. Do not swim downstream.
A further 6 kms bring you to Cape Tribulation with car park to the left. "I named the north point Cape Tribulation because here began all our troubles" wrote Lt. James Cook in 1770 after his ship, the Bark Endeavour, foundered on a reef. Take a walk along the ultimate tropical beach, 'where rainforest meets the reef', or explore the rainforest on the Dubuji boardwalk.
Just south of Cape Tribulation, Masons Tourist Information Centre and Shop provides information on the area's attractions. Here you can enjoy a swim in Myall Creek, or a snack in the café.
The road is sealed from Cape Tribulation to the Daintree Ferry (38 kms).
This is a spectacular drive through the Daintree World Heritage area, one of the largest rainforest wilderness areas in Australia. Here too, many beautiful rest stops, Thornton Beach and Cow Bay amongst others. Just before the Alexandra Range and ferry is the Daintree Discovery Centre, with interpretive boardwalks, Aerial Walkway and Canopy Tower, allowing visitors the rainforest experience at every level.
From the Ferry Crossing it is 49 kms to Port Douglas and 105 kms to Cairns.