The Inland Route to Cooktown
The Inland Road to Cooktown is sealed all the way! The route from Cairns takes you over the range and away from the coast via Hwy 1, the Kennedy Highway, to Mareeba where you strike north on Hwy 81, the Mulligan Highway. Similarly, from Port Douglas take Hwy 44 via Julatten to join Hwy 81 at Mt Molloy.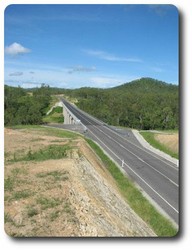 Once over the ranges, the lush tropical rainforest is replaced by more open tropical savannah as you travel through the tiny settlements common to Lower Cape York.
Mt Molloy was named after a teamster who discovered copper here in the 1880's. When ore reserves ran out in 1909 the township survived on government timber concessions until the 60's when the sawmill was closed down. The Post Office, in its pretty setting, provides local information. The Mt Molloy National Hotel, built in 1903, illustrates the townships historic past. There is a camping area with facilities, river side to the north of town.
Mt Carbine was founded after the discovery of extensive wolfram deposits in 1890. The mines were worked intermittently, subject to demand and world prices, until the 1980's. The Mt Carbine Caravan Park, in its peaceful bush land setting and surrounded by Brooklyn Station, is noted for its prolific birdlife.
The park offers free van storage for their customers who are traveling to the Cape. The small community has a roadhouse and pub. Bob's Lookout at the top of the Desailly Range offers spectacular views over remote and harsh savannah .
The Palmer River Goldfield, once Australia's richest alluvial field, is now a resource reserve managed by QPWS. The discovery of alluvial gold in the Palmer River in 1872 led to Queensland's largest gold rush. It became legendary for its hardships and the large numbers of Chinese miners, which peaked at 17,000 in 1877. A place of significant national heritage, the Palmer is rich in the artifacts of early Chinese mining and lifestyle, and the relics of pioneer technology and settlement. The former gold field capital of Maytown can still be explored, but it is a 4WD trek of extreme difficulty and for experienced drivers only. More information can be obtained from QPWS 4046 6600 or Cook Shire Council 4082 0500.
Lakeland lies in a natural basin formed by volcanic activity millions of years ago. The fertile earth found in this part of the Laura River Valley provides a wealth of agriculture, including bananas and the production of Laura Valley Coffee. Get a cold beer at the Lakeland Hotel Motel which has air conditioned motel accommodation. The Lakeland Caravan Park is a great base to explore Quinkan Country, and offers van storage. The Lakeland Roadhouse has fuel, takeaway and air-conditioned restaurant.
Here the road strikes north to Laura, the Peninsula Development Road, or north east on the Mulligan Highway, passing the Annan Gorge and Black Mountain, on the last leg of your trip into Cooktown.